Enjoy your meal!
Enjoy your drinks!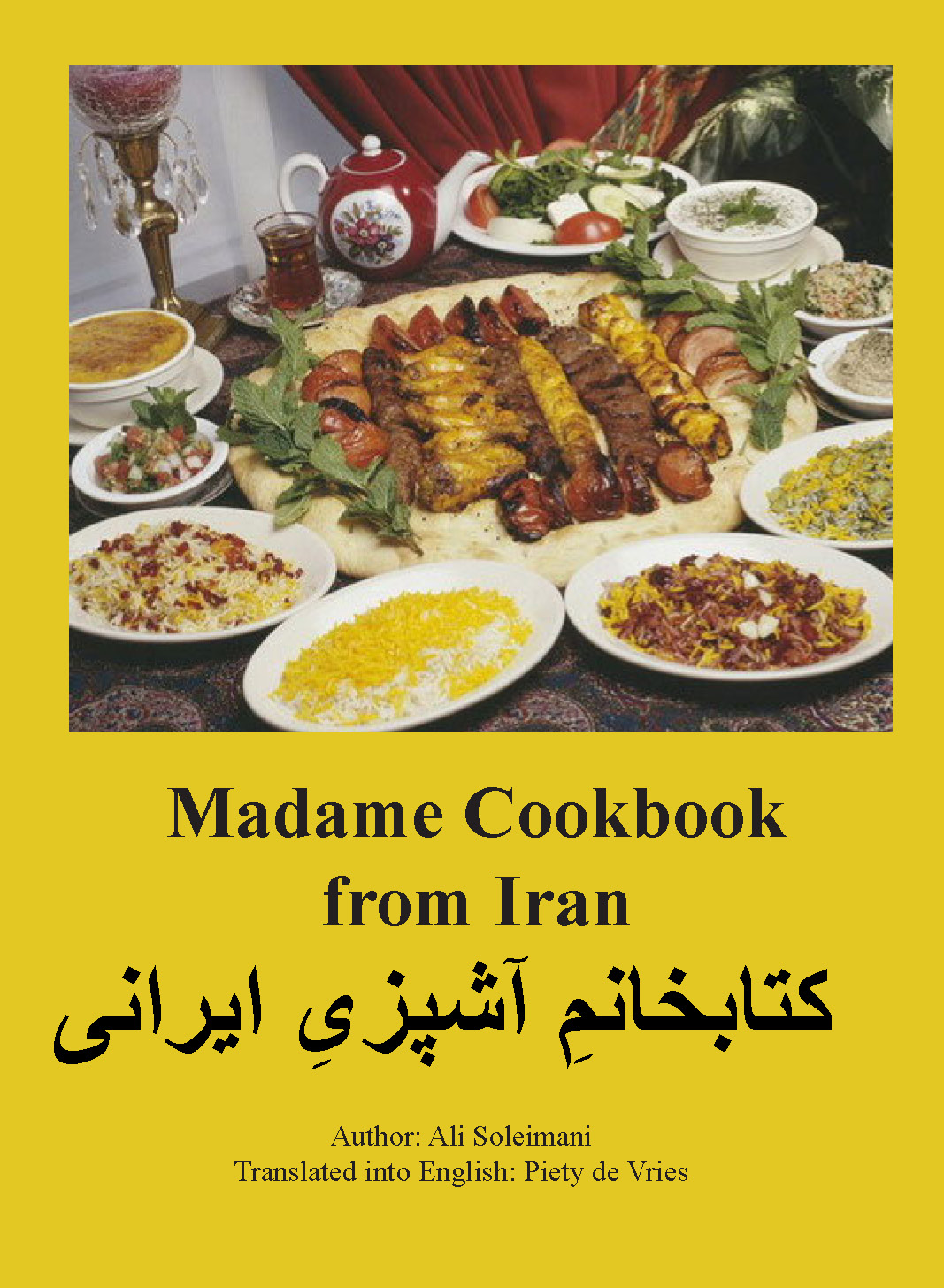 Publisher:
HET TALENHUIS
DRACHTEN - NEDERLAND
---
To order your books, click on the image below, by info@talenhuis.com:
---
Original Title:
Mevrouw Kookboek uit Iran
(Mefrao kokbook ayut Iran)
کتابخانمِ آشپزیِ ایرانی
(Ketabkhanoomè ashpazi Irani)
Composition and Dutch translation from Persian (Farsi):
Soleimani, Ali
Translated from Dutch into English by
de Vries, Piety
Most images are from the internet
Print- and binding:
Donkel & Donkel, Drachten - The Netherlands
ISBN/EAN: 978-90-78660-35-4
NUR-code: 442
NUR-description: Cuisine by country and region
First print: 3 july 2018
Publisher:
HET TALENHUIS
01062831 KvK. Leeuwarden 10-10-1991
JANSONIUSPLEIN 19
9203 NH DRACHTEN
Tel.: (+31) 0512 - 540560
Internet: www.talenhuis.com
E-mail: info.talenhuis.com
---
Index فهرست
Index فهرست 5
Short Notice اطلاعیه کوتاه 11
Preface by Piety de Vries پیشگفتارٔ پیتی دِ فریس 12
In matter of preface
مثلاً مقدمه
14
Nota bene توجه19
Preparing vegetables and herbs 20
آماده سازی سبزیجات و ادویه جات
20
Soups /
سوپ ها
23
Tomato soup 25
(soup godjeh farangi)
سوپ گوجه فرنگی
25
Barley soup 27
(soup djo)
سوپ جو
27
Onion soup 29
(soup piaz)
سوپ پیاز
29
Noodle soup 31
(ash reshteh)
آش رشته
31
Meal soup 34
(shole-qalam-kar)
آش شله قلمکار
34
Wheat porridge 36
(halim)
حلیم
36
Salad
سالادها
39
Kabab (= grilled meat) 41
کباب ها
41
Fillet kabab 43
(kabab barg)
کباب برگ
43
Minced meat kabab 45
(kabab koobideh)
کباب کوبیده
45
Chicken fillet kabab 47
(kabab djoodjè)
جوجه کباب
47
Shaslick kabab 49
(shish kabab)
شیش کباب
49
Kabab in a frying pan 51
(kabab tabehi)
کباب تابه ای
51
Grandmother's kabab 53
(beryani)
بریانی
53
Stuffed chicken (or other poultry) 55
(morq shekam por)
مرغ شکم پر
55
Sour rösti 58
(shami torsh)
شامی ترش
58
Iranian stew 61
(abgoosht)
آبگوشت
61
Meatballs 65
(koofteh)
کوفته ها
65
Rice meatballs 67
(koofteh berendji)
کوفته برنجی
67
Egg meatballs 69
(koofteh tokhmeh morqi)
کوفته تخم مرغی
69
Giant meatball 71
(koofteh Tabrizi)
کوفته تبریزی
71
Rice tables 75
(polo wa chelo)
چلوها و پلوها
75
Rice 76
(berendj or chelo)
برنج٬ چلو
76
Rice 81
(polo, kateh)
پلو
کته٬
81
Istanbul-rice table 84
(Stanboli polo)
استامبولی پلو
84
White-cabbage-rice table 87
(kalam polo)
کلم پلو
87
Green beans-rice table 90
(loobia polo)
لوبیا پلو
90
Cherry-rice table 93
(albaloo polo)
آلبالو پلو
93
Broad beans-ricetable 96
(baqali polo)
باقالی پلو
96
Adorned-rice table 99
(morassa polo)
مرصع پلو
99
Cranberry-and-chicken-rice table 103
(zereshk polo ba morq)
زرشک پلو با مرغ
103
Peas-rice table 106
(polo ba nokhod sabz)
پلو با نخود سبز
106
Carrot-rice table 109
(hawidj polo)
هویج پلو
109
Noodles-rice table 112
(reshteh polo)
رشته پلو
112
Dried-broad beans-rice table 116
(dami polo)
دمی باقالی
116
Chicken-banana-rice table 118
(polo ba morq wa moz)
مرغ پلو با موز
118
Minced meat-rice table 122
(polo ban goosht charkh kardeh)
پلو با گوشت چرخ کرده
122
Shrimp-rice table 125
(meygoo polo)
میگو پلو
125
Mung beans-rice table 128
(mash polo)
ماش پلو
128
Meat/chicken-rice table 131
(tahchin morq / goosht)
ته چین مرغ / گوشت
131
Spinach-rice cake 135
(tahchin esfenadj)
ته چین اسفناج
135
Sweet-rice table 139
(shirin polo)
شیرین پلو
139
Lentil-rice table 143
(adas polo)
عدس پلو
143
Chicken liver-rice table 146
(polo ban djegar morq)
پلو با جگر مرغ
146
Greek - Rice table 149
(polo Yoonani)
پلو یونانی
149
Stew pot 151
(khoresht)
خورشت ها
151
Mushroom stew pot 153
(khoresht qarch)
خورشت قارچ
153
Stew pot of baked or fruited ingrediënts 155
(khoresht qeimeh)
خورشت قیمه
155
Walnuts stew pot 158
(khoresht fesendjan)
خورشت فسنجان
158
Stew pot of baked vegetables and herbs 160
(khoresht qoormeh-sabzie)
خورشت قورمه سبزی
160
Spinach-and-plums stew pot 163
(khoresht esfenadj ba aloo)
خورشت اسفناج با آلو
163
Plums stew pot 165
(khoresht aloo)
خورشت آلو
165
Unripe-almonds stew pot 167
(khoresht chaqaleh badam)
خورشت چغاله بادام
167
Carrot stew pot 169
(khoresht hawidj)
خورشت هویج
169
Eggplant stew pot 171
(khoresht badendjan)
خورشت بادنجان
171
Zucchini stew pot 173
(khoresht kadoo)
خورشت کدو
173
Grilled eggplant 175
(mirzaghasemi)
میرزا قاسمی
175
Quince stew pot 177
(taskabab of khoresht beh)
تاس کباب / خورشت به
177
Celery stew pot 179
(khoresht karafs)
خورشت کرفس
179Rhubarb stew pot 181
(khoresht riwas)
خورشت ریواس
181
Okra stew pot 183
(khoresht kangar)
خورشت کنگر
183
Broad beans stew pot 185
(baqala qatoq / gol dar chaman / baqali khoresht) 185
باقال
ا قاتق
/ گل در چمن / خورشت باقالی
185
Green beans stew pot 187
(khoresht loobia)
خورشت لوبیا
187
Cottage cheese stew pot 189
(khoresht mast)
خورشت ماست
189
Unripe-plums stew pot 191
(khoresht aloocheh)
خورشت آلوچه
191
Sour-chicken stew pot 193
(khoresht morq torsh)
خورشت مرغ ترش
193
Tangerines stew pot 195
(khoresht narengi)
خورشت نارنگی
195
Eggplant-curd stew pot 198
(khoresht kashk badendjan)
خورشت کشگ بادنجان
198
Desserts 201
(deser of pas qaza)
دسر / پس غذا
201
Sweets 203
(shirinidjat)
شیرینیجات
203
Bamiyeh /
بامیه
205
Zoolbiya /
زولبیا
207
Gooshfil (literaly: elephant ear) /
گوش فیل
209
Helwa 211
(halwa)
حلوا
211
Ranginak /
رنگینک
213
Yellow rice pudding 215
(shole-zard) 215
شله زرد
215
Masqati /
مسقطی
217
Masqati, in strips /
مسقطی بریده
219
Ice from paradise 221
(yakh dar behesht)
یخ در بهشت
221
Porridge 223
(ferni)
فرنی
223
Sweet drinks 225
(shrbatha)
شربت ها
225
Sweet drink with rosewater 226
(sharbat golab)
شربت گلاب
226
Sweet drink with basilseeds 228
(sharbat tokhmeh sharbati)
شربت تخم شربتی
228
Sweet drink with the seeds of the yellow iris 230
(sharbat khake shir)
شربت خاک شیر
230
Sweet drink with lemon juice 232
(sharbat ablimoo)
شربت آبلیمو
232
Sweet drink with lime juice and jam from quinces 234
(sharbat behlimoo)
شربت به لیمو
234
Sweet drink with saffron 236
(sharbat zafarani)
شربت زعفرانی
236
Sweet drink with cherry jam 238
(sharbat albaloo)
شربت آلبالو
238
Sweet drink with honey and vinegar 240
(sharbat serkandjabin)
شربت سرکنجبین
240
English alphabetical index of keywords 241
راهنمایی انگلیسی جستجوی کلمات
241
Phonetic alphabetical index of keywords 246
راهنمای فارسی با حروف لاتین جستجوی کلمات
246
Persian alphabetical index of keywords 251
راهنمای فارسی جستجوی کلمات
251
---
Short Notice
اطلاعیه کوتاه
All publications from Het Talenhuis (literal translation; The House of Languages) are published digitally online.
A number of publications are also published in English, digitally and online. The English publications are a translation from the published Dutch books. Here you will find the English version of the book Mevrouw Kookboek uit Iran (translation; Madame Cookbook from Iran).
A few volunteers from Het Talenhuis have taken care of the English translation, led by Piety de Vries. All those who have contributed to the English translation are thanked, especially Patrick Veenstra.
To thank Piety de Vries as well, her foreword is included in this book, mentioning her name as the translator.
Het Talenhuis,
Ali Soleimani.
---
Preface by Piety de Vries
پیشگفتارٔ پیتی دِ فریس
This interesting cookbook contains many recipes of soups, kababs, meatballs, rice tables, stews and refreshing desserts. For those who do not eat meat, including myself, there are some vegetarian dishes in this cookbook and most meals can be prepared without meat or with a meat substitute, which makes it easier to cook meals for different occasions and for everyone's taste. When the temperature gets higher outside, I sometimes like to browse through the desserts because they are very easy to prepare and also very delicious!
This is the first time that I have had the honors to translate a cookbook from the original printed Dutch to English, commissioned by Het Talenhuis (literal translation; The House of Languages). What interests me is that the cookbook contains only Iranian recipes. The reason why this interests me is because I have a lot of interest in other cultures.
The names of the dishes are also printed in Farsi which makes the experience even better to cook foreign dishes.
During the translation of this book I got a look at what kind of dishes are served in Iran and what their eating habits are.
Translating Madame Cookbook from Iran was an educational experience for me.
I would like to thank the author of this cookbook, Ali Soleimani, for giving me the opportunity to translate this book, as well as anyone else who contributed with the translation of Madame Cookbook from Iran.
Bon Appétit!
Drachten, 23 may 2018,
Piety de Vries
---
In a matter of preface
مثلاً مقدمه
You shall know that the food also has a series of rituals;
some of them follow below:
You shall begin to eat first, in case if thou are the host.
You shall finish eating last, in case if thou are the host.
You shall not eat before elderly or scholars if they are in your presence, unless thou are the host.
You shall not sit quietly at the table, it is advisable to talk about fun and pleasant topics.
You shall treat your table guests kind and honest, even give him or her precedence.
You shall treat a guest three times.
You shall take an open and cheerful initiative and cozily participate at the table.
You shall not glare at other people, when they are eating.
You shall not bring up unpleasant or rude things that might bother others.
After all, you shall know that a famous saying reads: "It does not matter what you eat, but it is important with whom you eat!"
You shall go to the table with one of which you think that the companionship pleasant is. Research has shown that a cozy table increases the appetite and reduces stress. In many cultures the table is a sacred thing for a reason. Food is a powerful tool to build a friendship with or to clear away any disagreement with. In the old days at the dinner table even a hand was asked. An oriental proverb says: "One will never ever betray someone whom one has sat at the table with!" After all a proverb says: "A guest brings blessings with him!"
Another saying sounds nice too: "The guest is a friend of God!"
A Chinese saying of wisdom says: "Do not reject an invitation for dinner, invite people for dinner!"
You shall put the table in a quiet, relaxing and appetite-inspiring place.
The following points are important:
The dining table should be in a sufficient amount of light, because light has a direct effect on appetite.
Candles and candlesticks are here a romantic option.
The presence of paintings with images of nature, not to mention;
Soft background music is always attractive;
Devote sufficient time to the meal, at least half an hour, not less;
You shall eat at a set time.
The time of breakfast is the most important, as early as possible.
An African folk-saying reads: "Human rights start with breakfast!"
An Azerbaijani wisdom also says: "Wake up ten minutes earlier, then you will have plenty of time for breakfast!"
The time for lunch is around noon and dinner four hours before bedtime.
You shall not eat, especially your breakfast, on a workbench or in front of the television, understood!
You shall know that nothing can decorate a dining table and generate appetite better than a salad.
When should this showpiece on the dining table be eaten than, or do you only look at it? There is no fixed rule for it. The only rule for this is: "Eat the salad, don't just look at it! In these it is recommended that: If one is on a diet, lots of salad can lend a hand;
No cold salad on a plate with hot food;
A good salad contains tomatoes, cucumber, lettuce, onions etc.
A yogurt and cucumber-mix can replace the salad. The best one is a marriage between Mrs. salad and Mr. yogurt!
You shall know that some people are accustomed to also eat fruit with their meals.
However, this is discouraged by others, but not strongly.
You shall know that drinking water when eating depends on the habit of the person in question. However, it is not advisable to drink cold water with a hot meal.
You shall know that in general the consumption of salad, vegetables, fresh herbs and dairy products are not only recommended, but are almost mandatory.
A statement from the Himalayan nation district reads: "First yogurt, then eat, then yogurt!"
After all, a rumor reads: "Breakfast from the centenarians is lifelong yogurt!"
You shall know that obviously not all of the recipes from Iran are included in this cooking book. A cooking book with all the recipes from Iran would of have a magnitude of Amsterdam to Paris! Each population group of Iran and each district has its 'own' recipe. There already are 12.000 registered recipes of only soup in Iran.
You shall know that in this cooking book is attempted to include the most famous recipes from Iran. Nowadays all recipes from the world can be found on the internet. The "Madame Cookbook from Iran" is just a souvenir, and not a recipe encyclopedia.
You shall know that these recipes are prepared in different ways in Iran. The method presented in this cooking book is
just one of them. These recipes are also prepared in other places in the world, and therefore they all aren't real Iranian.
You shall soon see that the vegetarian recipes are listed with 'vegetarian' and this icon on top of the recipe.
<![if !vml]>

<![endif]>
You shall by replacing meat- and chicken broth with water and replacing the meat products by nothing of the most dishes in "Madame Cookbook from Iran" make a vegetarian dish!
You shall besides a 'General table of contents' [index] (p. 5) also find 'English alphabetical index of keywords' (p. 241), a 'Phonetic alphabetical index of keywords' (p. 246) and a 'Persian alphabetical index of keywords' (p.251) in this cooking book.
You and yours will already be wished a lot of cooking- and eating pleasure.
Notes and comments are very welcome!
You are thanked for your attention and everyone who has contributed so that "Madame Cookbook from Iran" could be achieved. Not to mention, those digital contributors, particularly on the internet, are also thanked for their work!
Hear me,
enjoy your meal,
enjoy your drinks!
Drachten, November 11th,
Ali Soleimani.
---
---
DE PRIJS VOOR ÉÉN EXEMPLAAR, INCLUSIEF BTW. EN VERZENDKOSTEN
THE PRICE FOR ONE COPY, INCLUDING VAT. AND SHIPPING COST IS:
29,50 euro*
--------------------------------------------------------------
N.B. Bij bestellingen uit België of andere Europese landen wordt 10 euro extra portokosten in rekening gebracht!
N.B. In case of orders from Belgium or other European countries, 10 euro extra postage will be charged!
Deze prijzen zijn geldig tot / These prices are valid until 01-01-2025.
BIJ DEZEN BESTEL IK HET BOEK
I ORDER THE BOOK
Madame Cookbook from Iran
(
ISBN/EAN:

978-90-78660-35-4

)
VOOR / FOR 29,50 euro;
INCLUSIEF B.T.W. EN VERZENDKOSTEN PER EXEMPLAAR.
INCLUDING VAT. AND SHIPPING COSTS PER COPY
Om uw boeken te bestellen, klik a.u.b. op het onderstaande beeld
To order your books, click on the image below, by info@talenhuis.com:
---